Before I began this horror tale ,I want to warn you if you are weak hearted just leave from here , as it may scare you too much. This is an old tale about the place Antarctica where my forefathers went on expedition and how they had encountered some horrific paranormal hauntings
So let's begin the story , it was the 19th Century My forefathers was a scientist , 11 scientist are a part of the expedition with other 25 civil engineers and a team if 50 workers on a mission for Antarctic , they have to set up a research centre in Antarctica
My grandfather was 15 at that time and he was the only son and had 3 sisters who all are tensed to see their father going on a mission in Antarctica which is a very dangerous place at that time , as no tools and technology was there at that time. He told them don't get worried and our safety is government priority and nothing will happen to us.
They all left for the expedition from Newyork Port and now we will listen the story as per his words. We went to Antarctica with the whole team of engineers, scientist , cook and workers and we are going through sea route.
On our route to the Antarctic we see many news islands , we are seeing new things , sea creatures and it was a long journey to the route.Every Body was in their mood Someone demands for their favorite food , some decided to play cards ,some are doing research study , and some are reading novel.
Outside the temperature is below zero somewhere near (-35) degree Celsius and inside the ship it was warmth and a cozy environment where everything looks fine
It was Saturday we landed on the Icy Soil of Antarctica , Government authorities confirmation and they told us to carry on the work from Monday .
We all are very excited as well exhausted. We all know we may have to face unforeseen problems later.
It was night as per Moscow time but in Antarctica it was a cloudy day with bone chilling cold weather .We had liquor and cigars with us and all the the comforts to protect us from the harsh cold weather
Day 2 : Sunday
We slept in day and waked up at morning , we all after doing all the daily morning activities. So after breakfast we decided to make a road map for tomorrow's work.The day went normal again.
Day 3: Monday
One of our crew member was sick who is a labor worker and had a stomach upset and mild fever and the doctor with us gave him a dose and an injection and told him to take rest.
Now we all decided to carry on our task. We divided the team in to 3 groups and civil engineers started their ground work to set up the house. All the things were properly setup and we gone to deck again
Day 4 : Tuesdays : It All Started
It was a heavy snowfall & temperature was -53 degree outside so we decided to halt at deck and don't move outside , we all are just resting ,one of our Civil engineer started to behave weirdly , at first we all thought it was a prank but he doesn't stop there , he started hitting his head on the dining table. We all were very afraid of this and can't understand what to do. We all hold him and doctor had given him an injection for sleeping and he slept .
We can't understand what had happened , doctor told that he got seizures but to us it doesn't look like one.
Day 5 : Hauntings Begins
We were on to work and as per decided team we move further on the place for expedition with our instruments to locate a scientific research centre , it was evening we came back to deck and was taking our dinner around 9 pm , one of our member behaving weirdly Again and this was one of our scientist from Netherlands .
This time even doctor got afraid and workers were calling it some kind of paranormal activity.
We some were taking drinks at the table around 11 and some one suddenly tapping the door very hard and who were sleeping inside don't know this
We not a single one had enough metal to go to the door and open it.Suddenly door stopped tapping and we started looking at each other decided to open the door.
We went on the upper deck and found nothing and thought it might be some polar bear or some wild Antarctic animal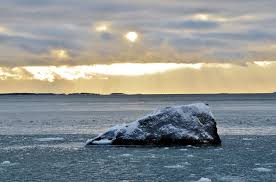 Day 6 : All Were Curious
When we all woke up we told the last night happenings to the rest of the crew and they are all very afraid to know that .
One of our worker who is also an assistant Priest in Chicago told that he had seen all this things in last and this is some kind of evil spirit who is doing all this scary stuff.
At first we don't agree with him but later looking at the incidents and reminding each of them were looking true to us. We again had a normal day at work and nothing happened that day
Day 7: Something very Unnatural Happened
Whole day went normal for us , though what we call night is also the day but we for us it was night time we were all to bead after dinner and a drink
It was midnight , again that tapping voice at main door and this time with much force as it will break it , we all run towards the door .
we united and went to the door and once again it stopped but what we see when we turning to our beds , one of the scienntist is Crawling on the ceiling of the ship and had a big tail too.
we get shocked with fear and some of us are terribly afraid that they are shaking
To be Continued……………….